Luisteren zonder moeite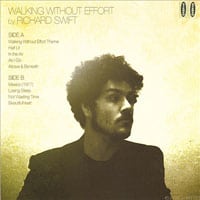 Richard Swift: op dit moment is hij een van de leden van The Shins én go-to producer / muzikale gast voor artiesten uit de stal van platenmaatschappij Secretly Canadian, waarvan de samenwerking met Damien Jurado – al drie albums lang – waarschijnlijk de prominentste samenwerking is. Maar Swift heeft ook een solocarrière die de aandacht verdient.
Zo verschenen er omstreeks 2005 twee albums. De ene was The Novelist: een bescheiden opgezet, maar desalniettemin ambitieus conceptalbum (voor een artiest zonder platendeal). Daarop staat Sadsong St., een nummer van net twee minuten, dat op een bijna vrolijke toon zingt: "When all my songs are sung, maybe I could get some sleep & close my eyes forev' and take my body down to Sadsong Street."
Later zou Secretly Canadian het "mini"-album samen met het andere "mini"-album Walking Without Effort uitbrengen als The Richard Swift Collection Volume 1. De twee albums kocht ik dus tegelijkertijd, maar waar Walking Without Effort veilig in mijn top 25 staat, komt The Novelist niet verder dan plaats 80. Niet omdat de liedjes zoveel zwakker zijn, maar omdat The Novelist als album 'high on concept' en 'low on catchiness' is: veel sfeer, weinig pop. Walking Without Effort is simpeler, directer en mooier.
De titel spreekt me ook bijzonder aan. Lopen zonder moeite. Al maak ik er zelf liever Lopend van. Lopen zonder moeite is een album over geluk en liefde in al haar vormen. Als je gelukkig bent, gaat lopen als het waren zonder moeite. Het album is onpretentieus en misschien zelfs bij vlagen iets te vriendelijk geproduceerd met vriendelijke blazers, drums en orgeltjes. Waarbij de teksten vriendelijke liefdesbrieven zijn – aan een geliefde (Half Lit), of – zoals in As I Go – aan z'n vader:
Everywhere I go
Every page I turn
I see your tender heart
If I lose my way
If I crash and burn
You'll love me just the same
Hallelu, I need to sing with all I have
Hallelu, I need to sing
If I falter, if I fade
You will hold me still so close
And I need you, my good father
To be with me, as I go
Het is ongecompliceerde muziek, met een over het algemeen optimistische tekst. Daarom is het eenvoudig om de cd af te doen als het werk van de zoveelste singer/songwriter die probeert door te breken, rijp voor radio 2, maar dat vind ik niet eerlijk. Swift schreef de nummers – en nam ze op – in 2001, net voor zijn vierentwintigste verjaardag. Walking Without Effort is daarmee een van de eerste proeven van het talent van de dan nog jonge Swift. Nog niet helemaal gevormd qua richting en stijl, maar de kwaliteit van de liedjes valt niet te ontkennen. Saai wordt het nooit. De zwarte humor die Swifts latere werk typeert, horen we hier alleen terug op afsluiter Beautifulheart. Bijna sarcastisch met scheurende gitaren en kerstbellen en een snijdende tekst:
One day I will see you again
One day when you swallow the knife
Als Swift al niets anders doet op Walking Without Effort, dan is het wel zijn voorliefde voor een goed nummer ten toon spreiden. De simpele, directe stijl doet bij mij wat geen enkel album in de lijst doet: het doet me aan vroeger denken zonder nostalgie. Het album maakt het niet ingewikkelder dan het is, maar ook niet makkelijker. Zeker als je het album samen met The Novelist luistert snap je de twee kanten van de medaille. Natuurlijk, later zou Swift mooiere composities maken, een nog meer eigen stijl kiezen en zijn nummers met meer swagger op plaat vereeuwigen (zie The Atlantic Ocean en het briljante Dressed Up For The Letdown), maar aan dat alles liggen mooie liedjes ten grondslag. Nee, dit album klopt. Het is een album zonder moeite. Zonder effort, om met Swift te spreken…
---
Luister naar The Novelist / Walking Without Effort op Spotify:
Afgestudeerd neerlandicus Stefan Meeuws is gespecialiseerd in het schrijven van teksten en concepten. Z'n laatste project is het onder de loep nemen van de 25 meest geluisterde albums volgens z'n LastFM-account.
Eerder in deze serie:
#25: Tom McRae – Tom McRae (2000)
#24: Kate Walsh – Light & Dark (2009)
#23: Ane Brun – Spending Time With Morgan (2000)
#22: Coldplay – A Rush Of Blood To The Head (2002)
#21: Lisa Hannigan – Sea Saw (2008)
#20: I Am Kloot – Natural History (2005)