Altijd iets te vieren, hoe macaber ook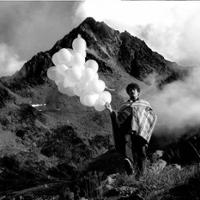 Tja, soms komt een artiest dus meerdere keren voor in mijn top 25. Dat lot treft ook Richard Swift, die eerder voorbij kwam met Walking Without Effort uit 2005. Als men jaren later vraagt "wanneer was Swift op zijn creatieve hoogtepunt?", dan hoop ik dat het niet Dressed Up For The Letdown is. Dit is namelijk op dit moment zijn absolute hoogtepunt en ik hoop dat er nog veel meer moois komt als hij straks even pauze neemt van zijn producerswerk of werk met The Shins.
Op Dressed Up For The Letdown horen we een Richard Swift die heeft ontdekt dat de muziekwereld niet zo romantisch meer is als die misschien wel nooit is geweest. Swift klinkt hier soms wereldwijs, soms cynisch en soms gedesillusioneerd. Dit alles is overgoten met een sausje dat het beste te typeren is als "zo hadden de Beatles wellicht geklonken als zij Amerikanen waren geweest."
Net als Walking Without Effort is dit geen depressieve plaat dus – daar is luisterervaring veel te rijk voor. En de teksten te cynisch. En de muziek te mooi. Swift heeft namelijk altijd iets te vieren, zelfs al is het teleurstelling of haat…
De plaat begint met de wat weemoedige titeltrack, maar die ben je na de heerlijke piano-intro van The Songs of National Freedom vrij snel vergeten, waarna Swift, punchy zingt (alsof hij de pianopartij er meteen bij opneemt):
We've seen the rain
We've seen the sunshine
Darling, you and I could never be wrong
I've tried to hide away for sometime
Seems like all I had was you and this song
Daar word je vrolijk van. Swift weet wanneer hij zijn cynische persoonlijkheid moet laten varen ten faveure van een fijn liedje. Met een fade-out nog wel!
En in het volgende nummer Most Of What I Know gaan we nog even door ("everybody wants for me to see, that most of what I know I can't believe, but your love will keep my heart alive").
Daarna pas komt de conflicted meneer Swift om de hoek kijken. Op Buildings in America horen we een Swift die een stuk minder zeker van zijn zaak is ("I messed it up, I blew a kiss and cut your wrist…").
Het eerste deel van de plaat wordt afgesloten met het cynische Artist and Repertoire, waarin Swift te horen krijgt dat de radiozenders zijn plaat niet willen draaien, en of hij geen jingle voor ze kan maken…
En TOCH voelt het niet alsof Swift hier daadwerkelijk aan het klagen is. Dat is het mooie. Op het eerste gehoor een zeikerd, op het tweede gehoor zet hij een sfeer neer vol overdrijving en nog meer overdrijving. Swift is stiekem wel van het grote gebaar.
Vanaf dan wordt de plaat pas ECHT goed.
In 2007 koos ik Kisses For The Misses al tot lied van het jaar op mijn eigen blog en ik ook zeven jaar later kan ik er nog niet over uit hoe fijn dit nummer is. De tekst is episch, de instrumentatie is episch, de zang (inclusief koortjes) is episch: dit is Richard Swift in topvorm. Dit nummer kan ik niet vaak genoeg horen. En hoewel de plaat daarna nooit meer zo goed wordt als dit nummer – ik ben eerlijk – bestaat de rest van de cd weldegelijk uit 4-sterren-nummers.
P.S. It All Falls Down (we gaan allemaal kapot!) is het meest euforische doemscenario ooit.
Ballad Of You Know Who is een pianoballade die begint met een wat macabere tekst ("I said to Mary: I hope you die"), maar waarin Swift gewoon weer spijt betuigt in het refrein ("My God, what have I done?").
Daarna mogen de handjes nog een keer op elkaar voor een fijn popliedje. The Million Dollar Baby is mijn andere favoriete nummer van deze plaat. Het nummer kabbelt lekker voort – waarna Swift in het refrein ineens zingt: "I wish I was dead most of the time, but I don't really mean it no…" Zingt u mee? Dacht ik al.
Een mooie fade-out van het refrein volgt aan het eind, maar zelfs Swift vond het niet kunnen om met die tekst te eindigen, dus volgt afsluiter The Opening Band. Een hoopvol nummer, of toch niet: "We all die when it's our time." Oh.
Toen deze plaat verscheen werd hij over het algemeen positief ontvangen. Het cijfer van de website Popmatters viel aanzienlijk lager (6) uit dan mijn eigen oordeel, maar de afsluitende alinea's van deze recensie vatten wel prima samen wat Swift zo sterk maakt. Aangezien dit het laatste album van Swift is dat in deze top 25 voorkomt, wil ik hiermee afsluiten:
Swift consistently expresses grand ambitions and great feelings, which should be applauded. (…) My favorite example occurs on the opening lines of "Ballad of You Know Who". Swift plays a solo piano like he's Billy Joel in a cocktail club. He slings the words like he's pouring a highball. "I said to Mary / I hope you die / May God forgive me / Or at least will try", Swift intones. No bull, just the facts. I wish you were dead. I know I should feel bad about this, but I don't. Not yet, anyway. Sorry Lord. She hurt me bad and deserves to die. The music begins to swell in a waltz tune—I think—surely it's some sort of upbeat ¾ dance step. It feels good to let the feelings out. Swift finds pleasure in the absurdity of it. That's why he named his album Dressed Up for the Letdown. There's always something worth celebrating, even when that something isn't a good thing.
En dat is het mooie van de plaat, en zelfs de titel. Geen commerciële doorbraak voor Swift, maar wel toegankelijke liedjes maken om dat te bereiken, met alles erop en eraan geproduceerd. Zelfs de plaat is Dressed Up For The Letdown. En daarmee is het een hoogtepunt in het oeuvre van Swift. Dat er nog maar veel mogen volgen.
---
Luister naar Dressed Up For The Letdown in Spotify:
Afgestudeerd neerlandicus Stefan Meeuws is gespecialiseerd in het schrijven van teksten en concepten. Z'n laatste project is het onder de loep nemen van de 25 meest geluisterde albums volgens z'n LastFM-account.
Eerder in deze serie:
#25: Tom McRae – Tom McRae (2000)
#24: Kate Walsh – Light & Dark (2009)
#23: Ane Brun – Spending Time With Morgan (2000)
#22: Coldplay – A Rush Of Blood To The Head (2002)
#21: Lisa Hannigan – Sea Saw (2008)
#20: I Am Kloot – Natural History (2005)
#19: Richard Swift – Walking Without Effort (2005)
#18. Turin Brakes – We Were Here (2013)
#17. Nick Drake – Pink Moon (1972)